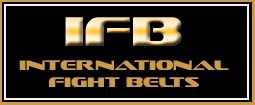 "CHAMPIONSHIP TITLE BELTS FOR REAL CHAMPIONS"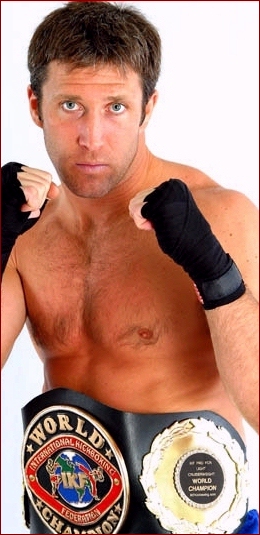 About The IFB
PERSONALIZED CUSTOM
BRASS PLATE BELTS
If You Are Looking For Your Own

CUSTOM
-SOLID GOLD BRASS-
PERSONALIZED
CENTER MEDALLION
LOGO BELTS

For Your Events
Than IFB Is The Company For You!

We do not MASS PRODUCE - STAMP PRESS The Custom Classic 4 Belts
These Belts are Individually HAND CUT From REAL LEATHER.
Your Custom Medallion Will Be Made Of REAL-SOLID GOLD BRASS
NOT Stamped - Tin Metal.
---
These Belts are Made with "REAL" Leather, NOT Plastic covers over cheap leather, plastic or imitation leather.
They are individually HAND CUT. Not Machine Stamped.
They include a SOLID BRASS (Not pot metal or die cast metal) Center Medallion which is Hand Polished and Fully Hand Painted.
They have a "3 Piece" Side Plate on the left and right side.

On the left side colored metal plate is engraved in Gold Lettering, the "Promotion or Promoters Name, Date and Location of the Event".
On the other side also engraved in Gold Lettering is the "Title Fought For".

All Large Pieces of these belts are put together with removable "Chicago Style" screws so all large pieces can be easily cleaned or changed if necessary.
All These Belts come with a buckle closure.
Some of the Larger Belts can be ordered with a bottom name plate so the winner can have his or her name added to the belt after the belt is won.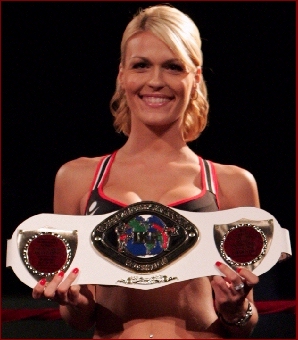 PERSONALIZED CUSTOM BRASS PLATE BELTS

YOUR OWN CENTER BRASS MEDALLION LOGO PLATE

Center Piece Is A Custom Made Solid BRASS Medallion
Includes Engraving - Plus Shipping
Plus "1 Time" Center Medallion Art and Mold Fee.

ORDERING
IFB BRASS PLATE BELTS
CLICK HERE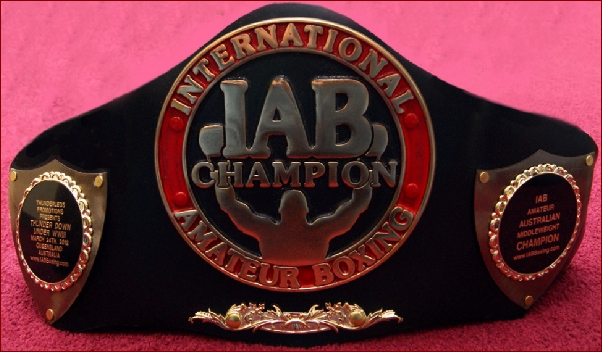 MEDIUM IKF TITLE BELT - WITH NEW "SHIELD" SIDE PLATES


MEDIUM IKF TITLE BELT - WITH NEW "SHIELD" SIDE PLATES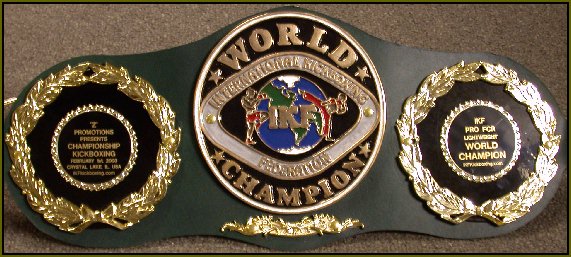 LARGE IKF WORLD TITLE BELT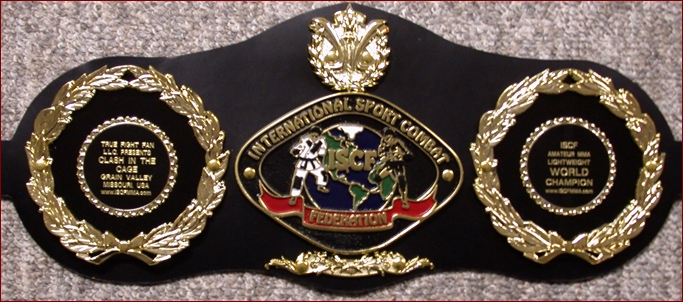 LARGE ISCF WORLD TITLE BELT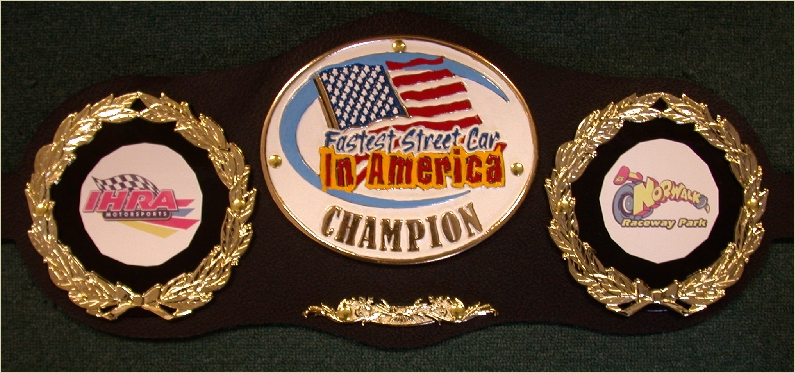 IFB PERSONALIZED CUSTOM BRASS PLATE BELTS
Above and Below is a Custom Belt For a Drag Race
At Norwalk Raceway In Ohio, USA.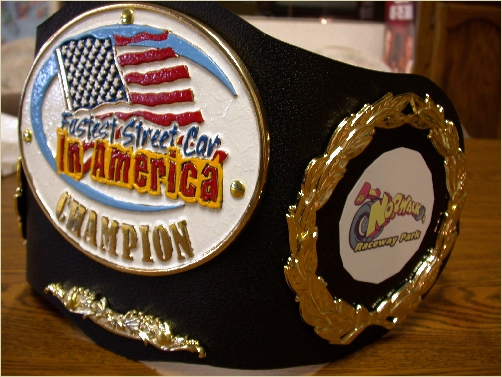 _______________________________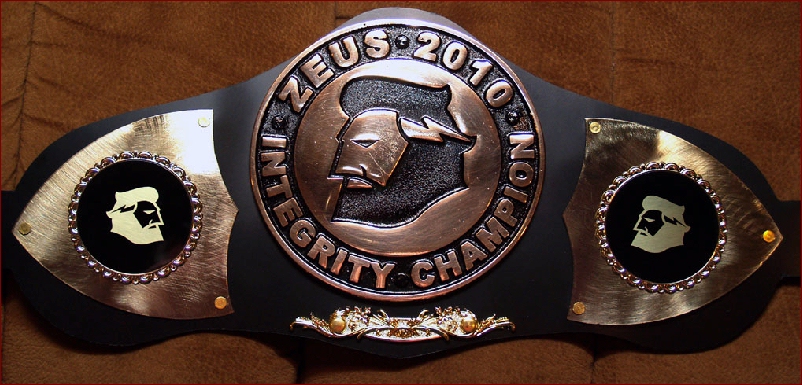 _______________________________





INTERNATIONAL FIGHT BELTS
P. O. Box 1205 - 9250 Cypress Street, Newcastle, CA, 95658, USA
(916) 663-2467 - Fax: (916) 663-4510
Or Contact IFB by e-mail by clicking
belts@fightbelts.com or glenn@fightbelts.com
Official Belt Manufactures of the
IKF- International Kickboxing Federation - ISCF - International Sport Combat Federation and the IAB - International Association Of Boxing!